Western Sahara
[google-map-v3 width="350″ height="350″ zoom="7″ maptype="HYBRID" mapalign="center" directionhint="false" language="default" addmarkermashupbubble="false" addmarkermashupbubble="false" addmarkerlist="Tarfaya, morocco{}bed_breakfast1-2.png{}Right by the ocean" maptypecontrol="true" pancontrol="true" zoomcontrol="true" scalecontrol="true" streetviewcontrol="true" scrollwheelcontrol="false" bubbleautopan="true" showbike="false" showtraffic="false" showpanoramio="false"]
And we are on the way back up North from the Western Sahara. The map below shows where else we've been. We've traveled south to get a look at the "Western Sahara". It has a lot less people, and a lot less of just about everything else too. Including the width of the roads! They like to play a bit of chicken when meeting oncoming trucks!
After leaving TanTan Plague, the first interesting stop was a sea cave, which had part of it's roof collapse. This left a large hole in the ground, with a tunnel through to the sea. It's pretty big!
We called to a town called Tarfaya, where there is a few things to see. There is a fort in the sea,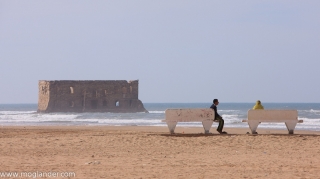 which was built by a guy called MacKenzie. The fort is just a short swim at low tide, but we didn't chance it as Sarah's recent swimming lessons have not covered the Ocean it seems! And a statue of a plane dedicated to Antoine de Saint-Exupery who wrote the novel "The little Prince" after crash landing while delivering the mail and waiting to be rescued.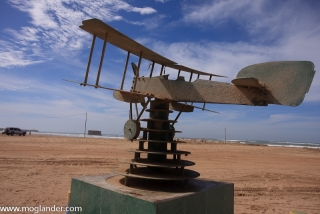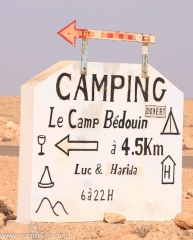 We stayed last night in Le Roi Bedouin, a remote but superb overnight spot. You can camp, stay in one of their tents or there is also a room you can have – a little more plush. Their Camel and Date Tajine is a must. While we were there 24 folks arrived who were on the Antwerp to Banjul
Challenge
. They were doing about 600k per day, which to my mind sounds like hell on wheels. But they were enjoying it!
And we've a new toy to play with on the Moglander blog: Maps with Pictures. On the map below, you'll see some photos which you can click to see in a bigger size. After you click, you'll see the Lat and long, and after a few seconds you will see the thumbnail of the image. Click on the thumbnail for to see the full size. We're still just trying this out. The idea is that anyone travelling this way in the future can see what to expect, and where.
Download GPX [maptype=G_HYBRID_MAP;gpxview=trk; gpxspeedchart=show; ngg_gallery=10]
And, A gallery of all the images, if you just like to look at pictures 🙂
[nggallery id=10]